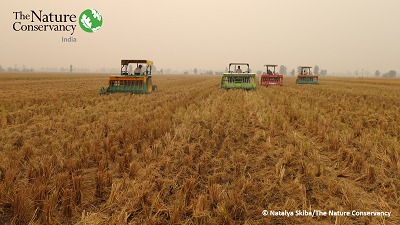 NEW DELHI – Crop residue burning in northwest India contributes to nearly a quarter of Delhi's air pollution in the winter months, creating a crisis situation and public health emergency every year in November.
A piece of innovative agricultural technology, The Happy Seeder, has recently been recommended by India's National Academy of Agricultural Sciences (NAAS) as a holistic solution to eliminate crop residue burning while increasing farmer's incomes, improving soil fertility and reducing water use (NAAS's Policy Brief). However, its uptake has been slow and currently less than 1% of agricultural acreage in Northwest India is using this technology.
A new report, 'The Evergreen Revolution' jointly published by The Nature Conservancy; International Maize and Wheat Improvement Centre (CIMMYT); Borlaug Institute for South Asia (BISA); CGIAR Research program on Climate Change, Agriculture and Food Security (CCAFS) and the University of Minnesota, endorses NAAS's recommendation.
The report states: "We believe a full transition away from crop burning in Northwest India in the next five years is possible. As pioneers of agricultural system change, India's farmers are poised to spark the world's next agricultural transformation. India and other countries worldwide face increasing challenges in meeting the multiple demands for food security, clean air and water and stable climate. India, a centre of the initial Green Revolution, can spark an Evergreen revolution and redefine the future of agriculture."
To achieve this goal, the report outlines 6 recommendations to address current technical, economic, behavioural and financial barriers to the uptake of Happy Seeder. These recommendations were developed in consultation with farmers, agricultural research institutions, civil society institutions including non-profit organizations and government representatives:
Strengthen innovation networks to accelerate Happy Seeder adoption through farmer driven learnings
Clarify the business case for Happy Seeder compared to other crop residue management options
Create model business plans for entrepreneurs desiring to provide Happy Seeder services
Implement an awareness and capacity building initiative to rapidly scale Happy Seeder adoption
Increase production and purchase of Happy Seeder through finance mechanisms
Support the government's enforcement of the ban on residue burning by demonstrating farmer access to cost-effective, sustainable alternatives
Seema Paul, Managing Director, The Nature Conservancy India said, "The Happy Seeder is a practical and tangible solution to the immediate challenge of rice residue burning in northwest India. Along with our partners, we are committed to supporting the government by piloting the efforts to accelerate adoption of this technology. Achieving the ambitious goal of no-burn agriculture by 2022 will require concerted efforts from numerous governmental, non-profit and private sector organizations but with foresight and commitment, this is certainly doable."
This was further reiterated by Heather Tallis, Global Managing Director and Lead Scientist for Strategy Innovation, The Nature Conservancy, "For today's complicated challenges, it's not often that we have a good solution in hand. Evidence shows that the Happy Seeder is a no-brainer. It improves farmer's profits, helps people struggling to breath downwind in Delhi, and benefits nature."
Dr. M.L. Jat, Principal Scientist, CIMMYT said, "The Happy Seeder has the potential to contribute to the Sustainable Development Goals and the Government of India's mission on soil health, doubling farmers income, reducing climate risks, more crop per drop and many more."
The report further highlights that in the long run, India will have to make efforts to overcome underlying systemic challenges facing Northwest Indian agriculture. These include shifting to a more diversified cropping system that is not water intensive; removal of conflicting and untargeted subsidies on irrigation, fertilizer, technology and energy; and harmonizing policies across ministries to simultaneously achieve multiple goals of doubling farmer income, improving food and water security, improving air and water quality and reducing greenhouse gas emissions.
Contact:
Genevieve Renard
Head of Communications
The International Maize and Wheat Improvement Center
g.renard@cgiar.org
+52 5558042004
or
Sonali Nandrajog
Communications Manager
The Nature Conservancy
sonali.nandrajog@tnc.org
9871948044
ABOUT THE INTERNATIONAL MAIZE AND WHEAT IMPROVEMENT CENTER:
CIMMYT – The International Maize and Wheat Improvement Center – is the global leader in publicly-funded maize and wheat research and related farming systems. Headquartered near Mexico City, CIMMYT works with hundreds of partners throughout the developing world to sustainably increase the productivity of maize and wheat cropping systems, thus improving global food security and reducing poverty. CIMMYT is a member of the CGIAR System and leads the CGIAR Research Programs on Maize and Wheat and the Excellence in Breeding Platform. The Center receives support from national governments, foundations, development banks and other public and private agencies www.cimmyt.org.
ABOUT THE NATURE CONSERVANCY:
We are a science-led global conservation organization that works to protect ecologically important lands and water for nature and people. We have been working in India since 2015 and our projects are aligned with Government priorities such as the National Mission for Clean Ganga and other river and wetland conservation initiatives, Renewable Energy goals and the Smart Cities Mission. We bring strong science, an ability to pilot and scale up on-the-ground programs, a focus on collaborating with stakeholders and has a history of global conservation successes.
What's new
January 15, 2019
January 15, 2019
January 10, 2019
January 10, 2019
January 4, 2019
MORE