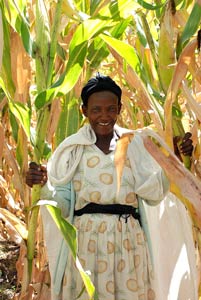 Addis Ababa, Ethiopia, and El Batán, Mexico, 12 August 2014 – The Ethiopian government has announced the launch of a new initiative to improve nutritional security in the country. 'Strengthening Quality Protein Maize Promotion and Seed Supply Systems in Ethiopia' sets a target of increasing the quality protein maize (QPM) production area in Ethiopia to 200,000 hectares (which is approximately 10 percent of the total land area currently devoted to maize production in the country) in three years (2015-17).
QPM is a type of maize developed through conventional breeding that, compared to other maize varieties, contains enhanced levels of the essential amino acids lysine and tryptophan. A sizable proportion of Ethiopian families depend on maize as their staple food and primary source of calories and protein. However, despite its high productivity, conventional maize is a poor source of balanced protein for human consumption. This leaves families – and particularly children – at risk of protein deficiency, especially in circumstances where intake of alternative protein sources is limited.
This is supported by various studies conducted in West Africa, Latin America and Asia, which also concluded that children in vulnerable environments can benefit nutritionally from QPM consumption. Humans consuming QPM are healthier and at lower risk for malnutrition disorders such as marasmus and kwashiorkor, and studies have shown that the consumption of QPM can even help to reverse the effects of malnutrition in those already affected.
An alliance of key institutions engaged in the agriculture sector was formed to shape the initiative. Alliance members include the Ministry of Agriculture (MoA), the Ethiopian Agricultural Transformation Agency (EATA), the Ethiopian Institute of Agricultural Research (EIAR), the International Maize and Wheat Improvement Center (CIMMYT), private seed companies and other key development partners. The alliance will support and help implement the initiative, which will help fulfill the food and nutritional security needs of Ethiopians.
After critical review and enrichment by key stakeholders, the initiative was endorsed by His Excellency Ato Wondirad Mandefro, State Minister of Agriculture, as "an initiative that links agriculture, nutrition and health." The initiative will be spearheaded by the EATA maize and sorghum value chain. Mandefro issued directives for the initiative's immediate implementation in the country's high-potential maize growing areas, as well as the inclusion of QPM technology dissemination in the regular government extension program starting this year. The Ethiopian government's agricultural extension program focuses primarily on assisting small-scale farmers to improve their productivity by disseminating research and on-farm verified information and technologies.
These actions represent a major endorsement of CIMMYT's five-year Nutritious Maize for Ethiopia (NuME) project. NuME's principal goal is to improve the food and nutritional security of Ethiopians through the widespread application and use of QPM and improved agronomic practices that increase productivity. Government partners working on NuME believed the project's approach was on-target; therefore the QPM scale-out proposal was developed. NuME project leader Adefris Teklewold said that "the government initiative will play a major role in making the QPM technology and inputs available to a larger number of maize farmers living beyond NuME target districts." An estimated 2.4 million people in Ethiopia are expected to benefit from the government initiative between now and 2017.
The government initiative will develop synergies with NuME and expand QPM through more field demonstrations and field days. While NuME is achieving success with these methods, the government expansion will make the QPM technology and inputs available to a larger number of maize farmers living beyond NuME project areas. The government initiative will also create opportunities for more collaborators to participate in the effort and for more experience-sharing and impact.
According to Teklewold, "The ultimate winner will be small-scale Ethiopian farmers who will have access to the technology through a wide variety of outlets and extension services." Endale Gebre, EIAR deputy crops research director, said during NuME's annual project performance and review meeting on 24 March that the NuME project could have a "profound impact" in reducing nutritional deficits in Ethiopia.
The key objectives of the government initiative are: creating/increasing awareness of seed company staff and farmers regarding the performance and nutritional superiority of QPM varieties through extensive exposure and demonstrations; enhancing the seed business and impact pathways by identifying constraints and opportunities in the seed value chain; enhancing the capacity of regulatory agencies, developing systems to track improved seed use and impact, and supporting seed business companies and community-based organizations to improve their capacity in seed production skills, post-harvest seed handling and seed business management to enable them to absorb available QPM varieties and increase quality seed.
The Ethiopian government noted that five QPM varieties have already been officially released by the EIAR's Ambo, Bako and Melkassa Research Centers. Basic and adaptive research activities are being conducted concurrently by different EIAR centers in collaboration with CIMMYT to develop improved QPM varieties adapted to different maize production environments and evolving stresses in the country.
As part of the initiative, a comprehensive seed strategy will be developed to broaden QPM adoption by ensuring a sufficient QPM seed supply by: improving access to credit and coordinated production of all seed categories (breeder, pre-basic, basic and certified) along the value chain; testing and demonstrating a stockist distribution plan for more efficient seed distribution; and providing seed business management and production training to emerging seed producers.
The NuME project is funded by Canada's Department of Foreign Affairs, Trade and Development (DFATD). The primary NuME implementing partners include: CIMMYT,  EIAR, the Sasakawa Africa Association/Sasakawa Global 2000; MoA; the Ethiopian Ministry of Health; the Ethiopian Health and Nutrition Research Institute; Farm Radio International; Harvard School of Public Health; universities; agricultural, technical, vocational and educational training centers; and numerous seed companies.
About Quality Protein Maize
QPM was developed by two CIMMYT scientists, Dr. Evangelina Villegas and Dr. Surinder Vasal, in the 1980s and 1990s. While modified maize varieties with higher protein content had previously been developed, they displayed lower yields and soft, chalky kernels susceptible to ear rot and insect damage. These varieties were generally rejected by consumers. Villegas and Vasal worked to develop a QPM variety that would gain widespread acceptance, and by the mid-1980s they had produced a QPM germplasm with hard kernel characteristics and taste similar to the traditional grain but with much higher levels of lysine and tryptophan.
Villegas and Vasal received the 2000 World Food Prize for their efforts to develop QPM. The World Food Prize was created in 1986 by CIMMYT scientist and Nobel Peace Prize winner Dr. Norman Borlaug. It is the foremost international award recognizing individuals whose achievements have advanced human development by increasing the quality, quantity or availability of food in the world.
At the time of the award, the current CIMMYT Director General Timothy Reeves stated that "the efforts of Drs. Villegas and Vasal have laid the foundation for what will be one of the most important contributions to food security in human history."
Higher-yielding, better-tasting QPM is now grown on more than 3.65 million hectares worldwide, contributes over US $1 billion annually to the economies of developing countries, and is estimated to have saved millions from malnutrition and hunger.
#####
Media contacts:
CIMMYT                                                                              NuME Project-Ethiopia
Scott Mall                                                                           Seifu Mahifere
s.mall@cgiar.org                                                                   s.mahifere@cgiar.org
+52 (55) 5804 2004, x 2029
+1 612-605-5205, x 2029
+1 404-988-5900
What's new
March 22, 2019
March 21, 2019
March 21, 2019
March 20, 2019
March 15, 2019
MORE