CIMMYT E-News, vol 4 no. 11, November 2007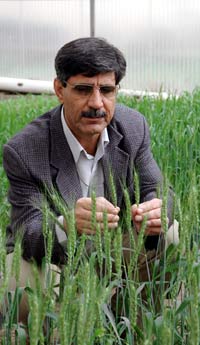 CIMMYT's new liaison officer in Iran plans to bring advanced science for wheat, the country's chief food staple, and to help channel benefits of Iran's wheat research capacity to neighboring nations.
A tall man, Mohammad Reza Jalal Kamali looks restless in normal size chairs and leans over tables to make level eye contact with those around him. But in the greenhouse, he seems completely at ease crouching eye-to-eye with a stand of wheat. "Iran recently became self-sufficient in wheat," he says, "reaching annual production levels of between 14 and 15 million tons." According to Kamali, this is no small feat, since the average Iranian eats more than 200 kilograms of wheat each year in traditional flat breads and other products, and the country's population—currently 70 million—has doubled since the early 1980s. Many live in rural areas, and nearly a third depend on farming for their food and livelihoods.
Liaison officer for CIMMYT's Iran office as of September 2007, Kamali says cereal research in the country dates back to the 1930s. At that time scientists gathered seed of wheat and barley landraces—local varieties developed and used by farmers over centuries—to mold them through selection and improvement into higher-yielding cultivars. "Wheat research was initially led by Iranian scientists at the Higher School of Crop Production at Karaj," he says, "but in the 1950s, FAO researchers emerged to modernize the work, and eventually, Iranian scientists, led by Hossein Kaveh, once more took charge."
Kamali himself has 32 years of experience as a wheat researcher in Iran, studied at the University of Western Australia, and served for five years as Deputy Director General for Research at the Seed and Plant Improvement Institute (SPII) in Karaj, Iran's largest and oldest breeding and agronomy institute and the location of CIMMYT's office, and also coordinated SPII cereal research programs.
Wheat in Iran: A success story
Kamali says that CIMMYT has made significant contributions to the quality of wheat research and to Iran's wheat harvests. "The center has impacted on wheat productivity through decades of training and breeding," he says. "Since the 1960s, 111 Iranian wheat scientists have taken training courses or worked as visiting scientists at CIMMYT. Dr. Kaveh himself, known as 'the father of wheat' in our country, participated in a CIMMYT training course."
Just as importantly, farm families and consumers nationwide have benefited from Iran's longstanding wheat breeding partnership with the center and the dramatic rise in wheat yields—from an average 1.7 to 3.8 tons per hectare, in irrigated zones—since the 1980s. "The most widely-grown wheat cultivar, Chamran, derives directly from CIMMYT breeding stocks," he says. "Many others, including all spring wheats, which cover two million hectares in Iran, as well as numerous bread and durum wheats, carry CIMMYT blood in their pedigrees."
Reaching out in the region and the world
CIMMYT's global wheat research initiatives have likewise derived enormous dividends from the center's partnership with Iran, according to CIMMYT wheat pathologist Etienne Duveiller, who has visited Iran several times. "Iran is one of the most diverse wheat production settings in the world, with both irrigated and rainfed cropping, extreme cold and warm temperatures in different areas, and altitudes from sea level to more than 1,600 meters" he says. "This favors selection for many traits of interest—yield potential, water-use efficiency, tolerance to terminal heat , salinity, cold and resistance to the major diseases of wheat."
"In Iran, you also have excellent infrastructure, skilled researchers, many trained in leading universities worldwide, and government commitment—there is evidence of investment in research everywhere," says Duveiller. As an example of how this has helped CIMMYT, he mentions the Ahwaz Research Station in southern Iran, which has been one of the most valued participants in the center's international wheat nurseries. "Over decades, they have consistently returned high-quality data that contributes to the development of useful breeding stocks for wheat researchers everywhere," Duveiller says.
As liaison officer for CIMMYT, Kamali will coordinate with Iran's Agricultural Research and Education Organization (AREO) to partner with universities and other institutions that contribute to wheat productivity and research in the country. But he also talks of potential spill-over benefits for Afghanistan or republics in Central Asia. "For the future, we have to bring new science and technology to Iran and use this capability both at the national and regional levels."
For further information: Mohammad Reza Jalal Kamali, Senior Wheat Scientist and Country Liaison Officer, Iran (cimmyt-iran@cgiar.org)
What's new
June 18, 2018
June 15, 2018
June 14, 2018
June 13, 2018
June 12, 2018
MORE