Quality Assurance and Quality Control Training Workshop on Maize Seed Value Chains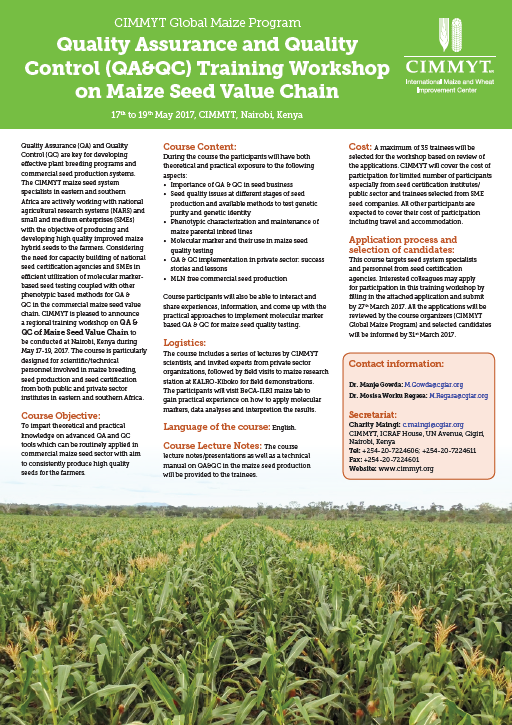 CIMMYT will conduct a regional training workshop on quality assurance (QA) and quality control (QC) of maize seed value chains in Nairobi, Kenya from May 17-19, 2017.
QA & QC are key for developing effective plant breeding programs and commercial seed production systems. CIMMYT maize seed system specialists in eastern and southern Africa are actively working with national agricultural research systems and small and medium enterprises (SMEs) with the objective of producing and developing high quality improved maize hybrid seeds to the farmers.
Key to this effort is building the capacity of national seed certification agencies and SMEs to efficiently utilize molecular marker-based seed testing, coupled with other phenotypic based methods for QA & QC in commercial maize seed value chains.
The course is designed for scientific/technical personnel involved in maize breeding, seed production and seed certification from both public and private sector institutes in eastern and southern Africa.
Course Objective:
To impart theoretical and practical knowledge on advanced QA and QC tools which can be routinely applied in commercial maize seed sectors with the aim to consistently produce high quality seeds for the farmers.
Course Content:
During the course participants will have both theoretical and practical exposure to the following aspects:
Importance of QA & QC for seed businesses
Seed quality issues at different stages of seed production and available methods to test genetic purity and genetic identity
Phenotypic characterization and maintenance of maize parental inbred lines
Molecular markers and their use in maize seed quality testing
QA & QC implementation in private sector: success stories and lessons
MLN free commercial seed production
Course participants will also be able to interact and share experiences, information and come up with practical approaches to implement molecular marker based QA & QC for maize seed quality testing.
Logistics:
The course includes a series of lectures by CIMMYT scientists and invited experts from private sector organizations, followed by field visits to maize research station at Kenya Agriculture and Livestock Research Organization in Kiboko (KALRO-Kiboko) for field demonstrations. The participants will visit the Biosciences eastern and central Africa (BeCA-ILRI) maize lab to gain practical experience on how to apply molecular markers, data analyses and interpret results.
Course language: English.
Course Lecture Notes: The course lecture notes/presentations and a technical manual on QA&QC in maize seed production will be provided to trainees.
Cost: A maximum of 35 trainees will be selected for the workshop based on review of the applications. CIMMYT will cover the cost of participation for a limited number of participants, with priority for those from seed certification institutes/public sector and trainees selected from SME seed companies. All other participants are expected to cover their cost of participation including travel and accommodation.
Application process and selection of candidates:
This course targets seed system specialists and personnel from seed certification agencies. Those interested may apply by filling out the attached application and submit by March 27, 2017. All applications will be reviewed by the course organizers (CIMMYT Global Maize Program) and selected candidates will be informed by March 31, 2017.
Contact information:
Dr. Manje Gowda                                         Dr. Mosisa Worku Regasa
M.Gowda@cgiar.org                                    M.Regasa@cgiar.org
Secretariat:
Charity Maingi
CIMMYT, ICRAF House, UN Avenue, Gigiri, Nairobi, Kenya
Tel: +254-20-7224606; +254-20-7224611
Fax: +254-20-7224601
Website: www.cimmyt.org