International Phytosanitary Awareness Week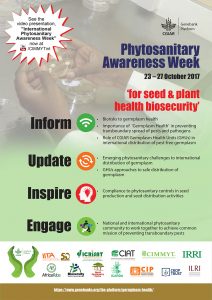 International Phytosanitary Awareness Week
The Germplasm Health Units (GHU) of CGIAR centers have teamed up to organize the 'International Phytosanitary Awareness Week' from 23 – 27 October 2017.
The ultimate aim of this event is to increase awareness about the phytosanitary challenges and organizational responsibilities in ensuring distribution of healthy germplasm for food and agricultural research and development.
Germplasm health is one of CGIAR's unknown success stories. CGIAR has the highest percent of international germplasm distribution among all organizations worldwide. Every year CGIAR centers attend to over 2000 requests for seed, clonal, and tree germplasm (landraces, improved lines, and wild accessions) per year from over 100 countries, the majority of which are developing countries.
GHUs provide vital support to genebanks and breeding programs in production and maintenance of pest and pathogen-free germplasm for conservation and use. Collectively GHUs, genebanks, and crop improvement programs ensure germplasm distributed from the CGIAR centers are of high quality and are healthy, and meet the phytosanitary requirements of national and international legislation.
Activities of the week include reaching out to researchers in CGIAR and national institutions to inform about the policy and procedures of international exchange of seed (germplasm) and biological materials, risks to seed health, CGIAR practices in germplasm exchange and showcase tools and technologies for seed health testing and phytosanitary controls.
Monica Mezzalama, head of the seed health laboratory at the International Maize and Wheat Improvement Center (CIMMYT) will give an online presentation on "Germplasm health at CIMMYT: Securing the path to food security" in celebration of the International Phytosanitary Awareness Week. The presentation will be available in both English and Spanish on CIMMYT's youtube channel, at https://www.youtube.com/user/CIMMYTint.
Please click here to view the video presentation.
Stay tuned to CIMMYT's social media for more coverage of this event.
Facebook: https://www.facebook.com/CIMMYT
Twitter: https://twitter.com/CIMMYT
The CGIAR Genebank Platform enables the Research Centers to fulfill their legal obligation to conserve and make available 750,000 accessions of crops and trees on behalf of the global community under the International Treaty on Plant Genetic Resources for Food and Agriculture of UN-FAO. It supports the core genebank operations, and activities to improve efficiency, enhance use and ensure legal and technical compliance with the international policies. Visit www.genebanks.org for details