CIMMYT at the World Food Prize and 2018 Borlaug Dialogue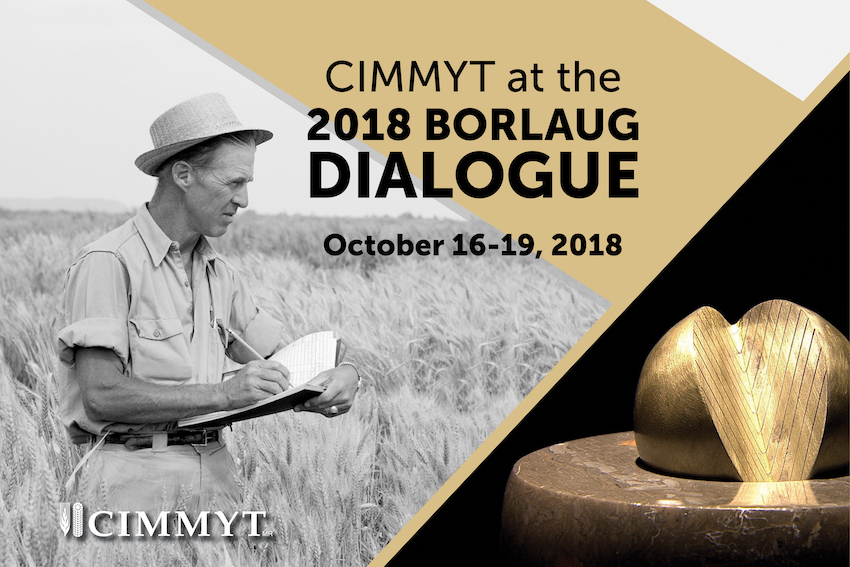 CIMMYT will participate in the 2018 Borlaug Dialogue and World Food Prize in Des Moines, Iowa, USA.
The theme of the 2018 Borlaug Dialogue, Rise to the Challenge, explores the massive effort to feed 9.5 billion people expected by 2050. Our still undefined ability to feed the projected world population requires the attention of problem-solvers across stakeholder groups.
Tuesday, October 16
1:30 – 3:30 p.m. Side event: Corteva Agriscience Symposium: Crop Security for Food Security
A panel of experts will discuss three pests/diseases impacting developing regions and available integrated pest management solutions for smallholder farmers: Fall Armyworm (Africa), Asian Soybean Rust (Latin America) and Rice Hoppers (Asia).
Wednesday, October 17
4:10 p.m. The Fall Armyworm: Advancing Threat to Global Food Security
Scientists participating
Martin Kropff
Martin Kropff is Director General of the International Maize and Wheat Improvement Center (CIMMYT). He earned his undergraduate degree at Utrecht University in the Netherlands, and his doctorate in Agricultural and Environmental Sciences at Wageningen, where he later held numerous roles. Kropff served as Rector Magnificus and Vice Chair of the executive board of Wageningen University and Research Center for almost ten years, as well as Director General of the Plant Sciences Group.
Kropff previously worked as a systems agronomist at the International Rice Research Institute (IRRI) in the Philippines, where he led an international program on systems research and simulation for rice production working alongside the national agricultural research systems and universities of nine Asian countries. He served on CGIAR's Board of Directors from 2013 to 2015.
Bram Govaerts
Bram Govaerts is currently global Director Innovative Business Strategies, Regional Representative for the Americas and Mexico country Representative at CIMMYT. Since 2007, Govaerts has led the Latin America Conservation Agriculture and Sustainable Intensification strategy in CIMMYT. From 2003-2007 he was Research Associate with the Katholieke Universiteit Leuven working in Mexico and Ethiopia. Govaerts holds a Master and Bachelor of Science in Bioscience Engineering, specialization Soil Conservation in combination with Tropical Agriculture at the Katholieke Universiteit Leuven, Belgium. Govaerts received the Development Cooperation Prize 2003 of the Belgian Federal Government, the 2014 Norman Borlaug Award for Field Research and Application, endowed by the Rockefeller Foundation and awarded by the World Food Prize on October 2014, in Des Moines, Iowa from a 2500 Mexican farmer organization the 2018 Premio Tecnoagro for the development of sustainable agricultural systems.
B.M. Prasanna
B.M. Prasanna has been Director of CIMMYT's Global Maize Program since 2010, and Director of the CGIAR Research Program MAIZE since 2015. Based in Nairobi, Kenya, he leads a multi-disciplinary team of 45 scientists located in sub-Saharan Africa, Latin America, and Asia. Prior to joining CIMMYT, Prasanna spent nearly two decades as a faculty member and maize geneticist at the Indian Agricultural Research Institute's Division of Genetics in New Delhi.
Since 2012, Prasanna has led intensive multi-institutional efforts to tackle Maize Lethal Necrosis in Eastern Africa, overseen the establishment of a state-of-the-art Maize Doubled Haploid Facility in Kiboko, Kenya, and led the development of several successful public-private partnership projects. He has received a number of awards for his contributions to maize research, post-graduate teaching and human resource development.
Natalia Palacios Rojas
Natalia Palacios Rojas studied microbiology at Andes University, Colombia, before pursuing doctoral studies in Plant Biochemistry at the University of East Anglia and the John Innes Centre in England. She later held postdoctoral positions at the University of Dublin, Ireland, and the Max Planck Institute for Molecular Plant Physiology in Potsdam, Germany.
Since 2005, Palacios has been working as a Nutritional Quality Specialist at CIMMYT, where she is also Principal Scientist, Head of the Nutritional Quality Laboratory, and leads the Maize Quality Research Strategy. Her main work focuses on the development of maize germplasm with high nutritional quality, such as high protein, zinc, and provitamin A maize, as well as the characterization of maize for end-use quality. Her research also includes the development of food processing methods to increase health and nutrition benefits for consumers.
Media contact
For more information, or to arrange interviews, contact:
Rodrigo Ordóñez
Communications Manager, CIMMYT
r.ordonez@cgiar.org