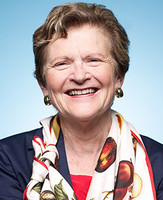 Dr. Julie Miller Jones, a board Certified Nutrition Specialist and Licensed Nutritionist, is a Distinguished Scholar and Professor Emeritus of nutrition in the Department of Family, Consumer and Nutritional Sciences at the St. Catherine University in St. Paul, Minnesota, USA. Jones is very interested in all aspects of nutrition science but is especially interested in whole grains and food-based solutions such as the DASH diet.
Dr. Jones has authored Food Safety (Eagan Press) and edited a book Dietary Fibre: Food and Feed and Bio-active Ingredients. She is a frequent speaker and served as co-chair for international and national conferences and consumer organizations, and actively involved in trying to educate the consumer against frauds and myths in nutrition and food safety.
Currently, Jones heads the Whole Grains Task Force and led the Glycemic Carbohydrate Definition Committee. Since 2005 she's served as a judge for the GrupoBimbo prize for the best academic nutrition paper. She is a scientific advisor for many organizations including the EU HealthGrain Platform on Whole Grains, Carbohydrates and Dietary Fibre, the Joint Institute of Food Safety and Nutrition for the University of Maryland and the US Food and Drug Administration, the carbohydrate committee of the International Life Sciences Institute of North America, the Grains Food Foundation, and the California Fig Advisory Board.
Jones is passionately interested in food and has taught cooking and beginning food science, Intercultural Family Food Patterns: Western, Intercultural Family Food Patterns: Eastern and African and experimental foods. She received her BS degree from Iowa State University and her Ph.D. in Home Economics and Food Science and Nutrition from the University of Minnesota.