La enorme diversidad de cultivos en Pakistán se ha documentado en una nueva publicación que fomentará políticas más efectivas y específicas para la agricultura nacional.
Utilizando registros oficiales y modelos geoespaciales para describir la ubicación, el alcance y el manejo de 25 cultivos principales y menores producidos en 144 distritos de Pakistán, la publicación "Zonificación de patrón de cultivos en Pakistán" ofrece una herramienta invaluable para la planificación de recursos y la formulación de políticas para abordar las oportunidades, desafíos y riesgos para la productividad y la rentabilidad de la granja, según Muhammad Imtiaz, científico de cultivos y representante nacional del Centro Internacional de Mejoramiento de Maíz y Trigo (CIMMYT) en Pakistán.
"Con el aumento de las temperaturas, más precipitaciones erráticas y frecuentes condiciones climáticas extremas, las decisiones sobre los patrones de cultivo son de suma importancia para la mitigación y adaptación del riesgo", dijo Imtiaz, coautor de la nueva publicación.
Con la publicación de mapas a todo color para las dos principales estaciones agrícolas de Pakistán, basadas en el área sembrada para cultivos individuales, la publicación fue elaborada por el CIMMYT y el Instituto de Investigación del Clima, Energía y Agua (CEWRI) del Consejo de Investigación Agrícola de Pakistán (PARC), con el apoyo técnico y financiero del Programa de Innovación Agrícola (AIP) para Pakistán, financiado por la Agencia de los Estados Unidos para el Desarrollo Internacional (USAID).
Los principales cultivos de Pakistán (trigo, arroz, algodón y caña de azúcar) representan casi las tres cuartas partes de la producción nacional de cultivos. Se producen varios cultivos alimenticios y no alimenticios en "Rabi", la estación seca de invierno, de octubre-marzo, y "Kharif", la temporada de verano caracterizada por las altas temperaturas y las lluvias monzónicas.
El estudio utilizó 5 años (2013-14 a 2017-18) de datos del Departamento de Estadística Agrícola, Área de Economía, Ministerio de Seguridad e Investigación Alimentaria Nacional, Islamabad.  "Agradecemos enormemente las contribuciones de científicos y expertos técnicos del Instituto de las Ciencias de Cultivos (CSI) y al CIMMYT-Pakistán," agregó Imtiaz.
Para ver o descargar la publicación, haga clic aquí:
Zonificación de patrón de cultivos en Pakistán, Instituto de Investigación del Clima, Energía y Agua, Centro Nacional de Investigación Agrícola, Consejo de Investigación Agrícola de Pakistán y el Centro Internacional de Mejoramiento de Maíz y Trigo. 2020. CDMX: CEWRI, PARC y CIMMYT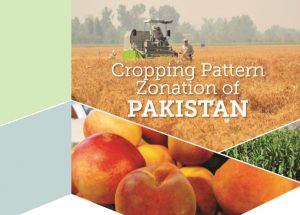 Otras publicaciones recientes del CIMMYT:
1. Plant community strategies responses to recent eruptions of Popocatépetl volcano, Mexico. 2019. Barba‐Escoto, L., Ponce-Mendoza, A., García-Romero, A., Calvillo-Medina, R.P. In: Journal of Vegetation Science v. 30, no. 2, pag. 375-385.
2. New QTL for resistance to Puccinia polysora Underw in maize. 2019. Ce Deng, Huimin Li, Zhimin Li, Zhiqiang Tian, Jiafa Chen, Gengshen Chen, Zhang, X, Junqiang Ding, Yuxiao Chang In: Journal of Applied Genetics v. 60, no. 2, pag. 147-150.
3. Hybrid wheat: past, present and future. 2019. Pushpendra Kumar Gupta, Balyan, H.S., Vijay Gahlaut, Pal, B., Basnet, B.R., Joshi, A.K. In: Theoretical and Applied Genetics v. 132, no. 9, pag. 2463-2483.
4. Influence of tillage, fertiliser regime and weeding frequency on germinable weed seed bank in a subhumid environment in Zimbabwe. 2019. Mashavakure, N., Mashingaidze, A.B., Musundire, R., Gandiwa, E., Thierfelder, C., Muposhi, V.K., Svotwa, E.In: South African Journal of Plant and Soil v. 36, no. 5, pag. 319-327.
5.  Identification and mapping of two adult plant leaf rust resistance genes in durum. 2019. Caixia Lan, Zhikang Li, Herrera-Foessel, S., Huerta-Espino, J., Basnet, B.R., In: Molecular Breeding v. 39, no. 8, art. 118.
6. Genetic mapping reveals large-effect QTL for anther extrusion in CIMMYT spring wheat. 2019. Muqaddasi, Q.H., Reif, J.C., Roder, M.S., Basnet, B.R., Dreisigacker, S. In: Agronomy v. 9 no. 7, art. 407.
7. Growth analysis of brachiariagrasses and 'tifton 85' bermudagrass as affected by harvest interval. 2019. Silva, V. J. da., Faria, A.F.G., Pequeno, D.N.L., Silva, L.S., Sollenberger, L.E., Pedreira, C. G. S. In: Crop Science v. 59, no. 4, pag. 1808-1814.
8. Simultaneous biofortification of wheat with zinc, iodine, selenium, and iron through foliar treatment of a micronutrient cocktail in six countries. 2019. Chunqin Zou, Yunfei Du, Rashid, A., Ram, H., Savasli, E., Pieterse, P.J., Ortiz-Monasterio, I., Yazici, A., Kaur, C., Mahmood, K., Singh, S., Le Roux, M.R., Kuang, W., Onder, O., Kalayci, M., Cakmak, I. In: Journal of Agricultural and Food Chemistry v. 67, no. 29, pag. 8096-8106.
9. Economic impact of maize stem borer (Chilo partellus) attack on livelihood of maize farmers in Pakistan. 2019. Ali, A., Issa, A.B. In: Asian Journal of Agriculture and Biology v. 7, no. 2, pag. 311-319.
10. How much does climate change add to the challenge of feeding the planet this century?. 2019. Aggarwal, P.K., Vyas, S., Thornton, P.K., Campbell, B.M. In: Environmental Research Letters v. 14 no. 4, art. 043001.
11. A breeding strategy targeting the secondary gene pool of bread wheat: introgression from a synthetic hexaploid wheat. 2019. Ming Hao, Lianquan Zhang, Laibin Zhao, Shoufen Dai, Aili Li, Wuyun Yang, Die Xie, Qingcheng Li, Shunzong Ning, Zehong Yan, Bihua Wu, Xiujin Lan, Zhongwei Yuan, Lin Huang, Jirui Wang, Ke Zheng, Wenshuai Chen, Ma Yu, Xuejiao Chen, Mengping Chen, Yuming Wei, Huaigang Zhang, Kishii, M, Hawkesford, M.J, Long Mao, Youliang Zheng, Dengcai Liu In: Theoretical and Applied Genetics v. 132, no. 8, pag. 2285-2294.
12. Sexual reproduction of Zymoseptoria tritici on durum wheat in Tunisia revealed by presence of airborne inoculum, fruiting bodies and high levels of genetic diversity. 2019. Hassine, M., Siah, A., Hellin, P., Cadalen, T., Halama, P., Hilbert, J.L., Hamada, W., Baraket, M., Yahyaoui, A.H., Legreve, A., Duvivier, M. In: Fungal Biology v. 123, no. 10, pag. 763-772.
13. Influence of variety and nitrogen fertilizer on productivity and trait association of malting barley. 2019. Kassie, M., Fantaye, K. T. In: Journal of Plant Nutrition v. 42, no. 10, pag. 1254-1267.
14. A robust Bayesian genome-based median regression model. 2019. Montesinos-Lopez, A., Montesinos-Lopez, O.A., Villa-Diharce, E.R., Gianola, D., Crossa, J. In: Theoretical and Applied Genetics v. 132, no. 5, pag. 1587-1606.
15. High-throughput phenotyping platforms enhance genomic selection for wheat grain yield across populations and cycles in early stage. 2019. Jin Sun, Poland, J.A., Mondal, S., Crossa, J., Juliana, P., Singh, R.P., Rutkoski, J., Jannink, J.L., Crespo-Herrera, L.A., Velu, G., Huerta-Espino, J., Sorrells, M.E. In: Theoretical and Applied Genetics v. 132, no. 6, pag. 1705-1720.
16. Resequencing of 429 chickpea accessions from 45 countries provides insights into genome diversity, domestication and agronomic traits. 2019. Varshney, R.K., Thudi, M., Roorkiwal, M., Weiming He, Upadhyaya, H., Wei Yang, Bajaj, P., Cubry, P., Abhishek Rathore, Jianbo Jian, Doddamani, D., Khan, A.W., Vanika Garg, Annapurna Chitikineni, Dawen Xu, Pooran M. Gaur, Singh, N.P., Chaturvedi, S.K., Nadigatla, G.V.P.R., Krishnamurthy, L., Dixit, G.P., Fikre, A., Kimurto, P.K., Sreeman, S.M., Chellapilla Bharadwaj, Shailesh Tripathi, Jun Wang, Suk-Ha Lee, Edwards, D., Kavi Kishor Bilhan Polavarapu, Penmetsa, R.V., Crossa, J., Nguyen, H.T., Siddique, K.H.M., Colmer, T.D., Sutton, T., Von Wettberg, E., Vigouroux, Y., Xun Xu, Xin Liu In: Nature Genetics v. 51, pag. 857-864.
17. Farm typology analysis and technology assessment: an application in an arid region of South Asia. 2019. Shalander Kumar, Craufurd, P., Amare Haileslassie, Ramilan, T., Abhishek Rathore, Whitbread, A. In: Land Use Policy v. 88, art. 104149.
18. MARPLE, a point-of-care, strain-level disease diagnostics and surveillance tool for complex fungal pathogens. 2019. Radhakrishnan, G.V., Cook, N.M., Bueno-Sancho, V., Lewis, C.M., Persoons, A., Debebe, A., Heaton, M., Davey, P.E., Abeyo Bekele Geleta, Alemayehu, Y., Badebo, A., Barnett, M., Bryant, R., Chatelain, J., Xianming Chen, Suomeng Dong, Henriksson, T., Holdgate, S., Justesen, A.F., Kalous, J., Zhensheng Kang, Laczny, S., Legoff, J.P., Lesch, D., Richards, T., Randhawa, H. S., Thach, T., Meinan Wang, Hovmoller, M.S., Hodson, D.P., Saunders, D.G.O. In: BMC Biology v. 17, no. 1, art. 65.
19. Genome-wide association study for multiple biotic stress resistance in synthetic hexaploid wheat. 2019. Bhatta, M.R., Morgounov, A.I., Belamkar, V., Wegulo, S.N., Dababat, A.A., Erginbas-Orakci, G., Moustapha El Bouhssini, Gautam, P., Poland, J.A., Akci, N., Demir, L., Wanyera, R., Baenziger, P.S. In: International Journal of Molecular Sciences v. 20, no. 15, art. 3667.
20.  Genetic diversity and population structure analysis of synthetic and bread wheat accessions in Western Siberia. 2019. Bhatta, M.R., Shamanin, V., Shepelev, S.S., Baenziger, P.S., Pozherukova, V.E., Pototskaya, I.V., Morgounov, A.I. In: Journal of Applied Genetics v. 60, no. 3-4, pag. 283-289.
21. Identifying loci with breeding potential across temperate and tropical adaptation via EigenGWAS and EnvGWAS. 2019. Jing Li, Gou-Bo Chen, Rasheed, A., Delin Li, Sonder, K., Zavala Espinosa, C., Jiankang Wang, Costich, D.E., Schnable, P.S., Hearne, S., Huihui Li In: Molecular Ecology v. 28, no. 15, pag. 3544-3560.
22. Impacts of drought-tolerant maize varieties on productivity, risk, and resource use: evidence from Uganda. 2019. Simtowe, F.P., Amondo, E., Marenya, P. P., Rahut, D.B., Sonder, K., Erenstein, O. In: Land Use Policy v. 88, art. 104091.
23. Do market shocks generate gender-differentiated impacts?: policy implications from a quasi-natural experiment in Bangladesh. 2019. Mottaleb, K.A., Rahut, D.B., Erenstein, O. In: Women's Studies International Forum v. 76, art. 102272.
24. Gender differences in the adoption of agricultural technology: the case of improved maize varieties in southern Ethiopia. 2019. Gebre, G.G., Hiroshi Isoda, Rahut, D.B., Yuichiro Amekawa, Hisako Nomura In: Women's Studies International Forum v. 76, art. 102264.
25. Tracking the adoption of bread wheat varieties in Afghanistan using DNA fingerprinting. 2019. Dreisigacker, S., Sharma, R.K., Huttner, E., Karimov, A. A., Obaidi, M.Q., Singh, P.K., Sansaloni, C.P., Shrestha, R., Sonder, K., Braun, H.J. In: BMC Genomics v. 20, no. 1, art. 660.