Blog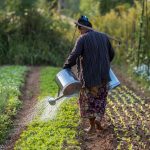 The global food system needs to be transformed to respond to the health and nutrition needs of the future. To achieve this, however, there needs to be a strong global program to prevent greater threats from climate change.
---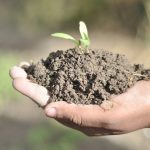 On December 5, we celebrate World Soil Day. This year the theme is "Be the solution to soil pollution." Most of you may not have been aware that such a day even existed or perhaps even question the reason why the world even dedicates an entire day to c …
---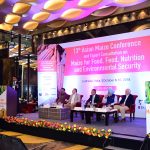 The Asian Maize Conference and expert consultation on "Maize for Food, Feed, Nutrition, and Environmental Security" was held in Ludhiana, Punjab, last week.
---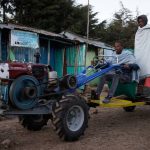 We have seen an increased use of improved seed, appropriate technologies and agricultural machinery, all adapted to the specific needs of African farmers. In this op-ed, Stephen Mugo and I discuss the best way to take this progress even further, so small farmers across the continent can reap the benefits of sustainable intensification practices and produce more food.
---
While traveling through Africa and stopping at CIMMYT's regional offices, I had the pleasure of meeting the President of Zimbabwe, Emmerson Mnangagwa, and discussing ways of enhancing agricultural productivity in the face of erratic rains expected in the 2018-19 farming season.
---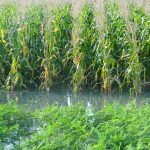 Global climate change negotiators met at COP23 to tackle myriad issues, including how to reduce greenhouse gas emissions from agriculture and protect food and farming from worsening climate impacts. Technology such as drought- and heat-tolerant maize, resistant crops and control practices to combat newly-emerging pests, insurance to recover from extreme or erratic weather, and more targeted use of nitrogen fertilizers are already being adopted in Africa and Asia to reduce agriculture's footprint while improving farm resilience and productivity.
---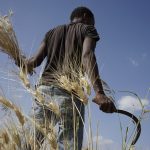 Index insurance is one of the top 10 innovations for climate-proof farming. Photo: P. Lowe/ CIMMYT New insurance products geared towards smallholder farmers can help them recover their losses, and even encourage investment in climate-resilient innovati …
---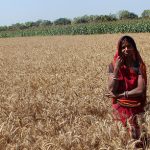 India is one of the world's largest contributors to global warming, but simple changes in farm management can drastically cut emissions while meeting food demand.
---
The new maize lethal necrosis online portal provides up-to-date information and surveillance tools to help researchers control and stop the spread of the deadly disease.
---
Joyce Maru is a capacity development & communications specialist at the International Potato Center A farmer prepares maize porridge using Provitamin A maize. Photo: R.Lunduka/CIMMYT Vitamin A deficiency is considered a major public health problem …
---
OLDER ENTRIES
Responsible Editor: Genevieve Renard. Reserved Right for Exclusive Use granted by the Mexican Copyright Office (valid in Mexico) no. 04-2013-091212312700-203. Responsible for updating this blog: Matt O'Leary, communications officer, Km. 45 Carretera México -Veracruz, El Batán, Texcoco, Estado de México. C. P. 56237, México. Weekly update. © CIMMYT 2017.